Multichannel works for the Endangered Guitar alone have been performed on systems with 3 speakers, quad, 5.1 with displaced center speakers, hexaphonic systems, 7 channels (the eighth speaker was broken), octophonic / centered octophonic, 8-channel cube systems, 16 channels, 56 channels and a Wavefield Synthesis System.
MULTICHANNEL AUDIO / WORKS FOR SPACES

---
Skeuomorph for FLUX Quartet and Realtime Immersive Environment

A sonic hybrid of FLUX's acoustic sounds and their electroacoustic counterparts. The result of a 20-year investigation of electroacoustic live processing, it is conceived as a multichannel piece that can be presented on systems with up to 64 channels of audio.

Radio Panspermia
Multichannel works over the internet, distributed between devices, desktop and laptop computers, smartphones and tablets. Main website here:
radiopanspermia.space
Sonic Flotsam 2019

The sound sources are several contact mikes, primarily picking up the sounds from the battery-powered fans. Performances have been done on quad, hexaphonic and octophonic systems.



CCRMA/STANFORD 2019


The Endangered Guitar on 56.2 channels at Stanford's Center for Computer Research in Music and Acoustics!
CONFLICT OF INTEREST 2018

The spatialization on Harvestworks' 8-channel cube system at Hunter's is controlled by data from my own DNA analysis, and the electromyographic data from the MYO armband.





SCHWEINE IM WELTALL 2017


Processing Michael Vorfeld's sounds that are generated by different light bulbs and actuating electric devices, on three-dimensional 8 channel cube system.




HfMT HAMBURG 2012:
WAVEFIELD SYNTHESIS SYSTEM


An Endangered Guitar performance. In regular multichannel systems sounds are still heard as coming from the direction of the speakers. Not so in Wavefield Synthesis Systems, here sounds are perceived as moving in space independently of the speakers, e.g. they can stop in front of your face, and travel through your head.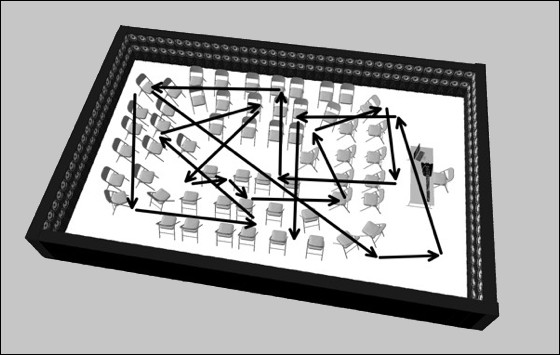 ARSON w/ DENMAN MARONEY 2013


Processing Denman Maroney's "hyperpiano" on a quad system at the New York Electronic Arts / Rhythm in the Kitchen festival 2013.



ISSUE PROJECT ROOM 2006


Endangered Guitar at Issue Project Room, with 16 speakers hanging from the ceiling and one speaker in the back of the audience. John Jannone provides the live video processing.




BALANCE OF POWER 2005

The LEMUR GuitarBot (
www.lemurbots.org
) is a collection of four MIDI-controlled monochords built by Eric Singer. I set up a feedback loop between the Guitarbot and my software, in that the analysis of the Guitarbot sounds controlled the playing of the instrument. Presented as a 5.1 piece, it was shown on surround sound installations and presentations in the US, Germany and Bulgaria.
ENGINE 27 2002


Endangered Guitar performance at a residency at Engine 27, using 16 speakers of different sizes, at different locations in the room, and pointing in different directions. Also, the speakers were made of granite.