DARK CIRCUITS SERIES AT SPECTRUM 2014-2017

Following Hans Tammen's "Dark Circuits" Festival in June 2014, Spectrum's "Dark Circuits Series" featured performers who work in contemporary electronic music practices such as circuit bending, no-input mixers, laptops, turntablism, analogue circuitry, network sniffers, live coding and soldering, plus other instruments we may have never heard of yet.
Spectrum –
https://www.facebook.com/spectrumNYC
The series is discontinued.
---
Past Shows
April 2017: Andrew Neumann: Point to Point:Joint to Joint:

Andrew Neumann



Utilizing custom built MIDI controllers in conjunction with standard midi software/warfare, this performance is an electronic sonic/visual improvisation. Samples culled and modified from the real world, the synthetic (analog) world, and the occasional sound bi(y)te allow for results, at times predictable, other times less so. The video element of this this piece constructs a dialectic that views the natural world, slightly skewed……(and now completely screwed).

Neumann explains "The current controller (originally built for a surveillance camera) is now embedded into my current setup. The allure of building a controller is the unpredictable way it may interface with whatever it is controlling. It is the unpredictability that keeps one on their toes; I often think of this setup as an analog interface; which in fact it actually is…"
---
February 2017: John Morton and Scott Colley

John Morton + Scott Colley

John Morton (electronics) and Scott Colley (acoustic bass) presented The Orangetown Resolutions, a collaborative exploration of defined and erratic improvisation. Each performer will use data received from ping sensors attached to the fingerboard of the bass to control, expand, abandon, follow, and channel intentions and sonic output.

John Morton creates sound installations and compositions using electronics, sensors, and mechanical music machines. His installations include Backchannel at Odetta Gallery in Bushwick and Sound Bridge, a permanent sound installation in Yonkers. Scott Colley, the bassist of choice for such jazz legends as Herbie Hancock, Jim Hall, Andrew Hill, Pat Metheny and Michael Brecker. He has 7 recordings available of his original music.
---
November 2016: Jonas Bers

Jonas Bers



In Jonas Bers' realtime video sonification works, salvaged VHS era editing machines, surveillance cameras, and laboratory equipment undergo crude modifications to be reincarnated as musical instruments. Audible frequencies within the video signal are amplified into a stark and droning synesthetic score; an intuitive and hypnotic illustration of the inextricable relationship between analog video and sound.

A stalwart of NY video performance and devotee of obsolete technology, Bers' minimalist geometric abstractions use audiovisual stimulation as a context for the deep contemplation of shapes and patterns typically devoid of spiritual connotation in order to consider visual and emotional illusions of dimensionality.
---
September 2016: Judy Dunaway – Interactive Works for Balloons

Judy Dunaway



At Spectrum's Dark Circuits Series Judy Dunaway will coax an unimaginable universe of sounds from various oversized amplified latex balloons coupled intimately with interactive electronics and video projections designed especially for use with the balloon instruments. She will present "Hommage à Kenneth Noland," a new piece for amplified giant balloon, interactive synthesis and interactive video projections shown directly on the balloon's surface. Other works will include "Interactive Piece for Tenor Balloon," a duet between her "Tenor Balloon" and an artificial intelligence synthesis improv partner combined with video projections, and a new work for amplified dirigible-shaped balloon instrument.."

Judy Dunaway is an avant-garde composer, free improvisor and conceptual sound artist who is primarily known for her sound works for latex balloons. Since 1990 she has created over forty works for balloons as sound conduits and has also made this her main instrument for improvisation. She has presented this work at many major venues throughout North America and Europe, and has CDs on the CRI and Innova labels, among others.
---
May 2016: David Morneau – Vintage Machines / Another Dimension

David Morneau



Another Dimension is a bustling meditation that pushes against the timbral limits of the original Nintendo Gameboy. It is reassembled in new configurations for every performance, using only a single vintage Nintendo Gameboy and Nanoloop.

David Morneau is a composer of an entirely undecided genre. Described by Molly Sheridan as a "shining beacon" of inspiration, his diverse work illuminates ideas about our culture, issues concerning creativity, and even the very nature of music itself. His eclectic output includes Love Songs, an album of hybrid pop/art songs that combine Shakespeare's Sonnets with contemporary poetry (described in NM421 as "elegantly rendered"), 60×365, a year-long podcast project for which he composed a new one-minute piece every day (labeled "impressive" by NPR's All Things Considered), and Broken Memory, an album of noisy drones and beats extracted from a vintage Nintendo Gameboy. A review on Grindthieves International exclaims that Broken Memory "absolutely wrecks shop.… For that, David Morneau wins."
March 2016: Jess Rowland

Jess Rowland



Jess Rowland's sound works explores the breaking of systems of technology. As part of this process, she use handmade flexible sound objects such as her large multichannel homemade sound tapestries, unexpected inductive surfaces, and random glitch accidents as a clash and concordance which is reflective of these systems. She is interested in exploring and reflecting on the kinds of systems we all experience everyday – the way the body and systems of technology are intricately tied together. For the Dark Circuits Series, she will present a program of works for laptop destruction and inductive interactions, featuring a collection of her sound tapestries.
---
November 2015: John Driscoll w/ Phil Edelstein

John Driscoll



John Driscoll will perform an evening of electronic works, both historical and current, including his early Ebers & Mole part 1 (1979) for amplified bamboo which was commissioned for Douglas Dunn and Dancers, Speaking in Tongues (2012) for an orchestra of whimsical instruments responding to microscopic motion, and Phil Edelstein's work-in-progress Impulsions (2014/2015), a duet of rampant resonance via impulse responses captured by Matt Rogalsky. Accompanying Driscoll will be his fellow CIE collaborator Phil Edelstein, plus Steve Bull and Hans Tammen.
---
July 2015: Matthew Ostrowski – Negative Differential Resistance

Matthew Ostrowski



A New York City native, Matthew Ostrowski has been creating art with electronic and digital media for over twenty years, having worked as a composer, performer and installation artist, exploring work with multimedia, alternative controllers, video and theater. Using digital tools and formalist techniques to engage with quotidian materials — sonic, physical, and cultural – Ostrowski's work explores the liminal space between the virtual and phenomenological worlds. At Spectrum's Dark Circuits Series he will present a live performance for amplified and processed fluorescent lights.
---
March 2015: LoVid – Back In the Frame Series

LoVid



LoVid presented a special audiovisual performance for Spectrum combining analog and digital handmade tools. The performance featured LoVid's hardware A/V instrument; Color Wheel. Color Wheel contextualizes explorations in image processing and analog signals that started in the 1960's, particularly within the context of institutions such as Experimental TV Center. Influenced by the dawn era of media art, LoVid has been producing handmade analog synthesizer instruments with which they produce experimental, noisy, video and sound concurrently.
---
January 2015: David Simons – Theremin Is Reading My Thoughts

David Simons



Taking a few steps beyond Leon Theremin's invention, Simons uses motion and proximity to activate and manipulate audio samples. This non-linear compositional method is a unique and hyper-sensitive interactive design. Two electro-magnetic spheres of possibility are created by the instrument's antennae. He also performs his recent compositions for solo Theremin, Pythia and Occupational Therapy (2013-14). Guest vocalist Lisa Karrer joins with Dear Officer, their nightmarish collaboration from 1998 on a suicide note which made headlines.
---
October 2014: Marco Donnarumma – A Night Of Biophysical Music

Marco Donnarumma



In this concert, Marco plays with the Xth Sense, a new musical instrument he created 4 years ago. By performing whole-body, physical gestures, his body emits bioacoustic sounds which are amplified using wearable microphone sensors, interactively live sampled and diffused through loudspeakers and subwoofers. In this way, he creates music by literally composing in real time the sounds emitted by the muscle tissue of his body. The natural sound of the flesh and its virtual counterpart blend together into unstable sonic objects. This is what he termed Biophysical Music, music that is a joint result of bioacoustic body mechanisms and physical, visceral performance.
---
August 2014: MSHR (Brenna Murphy and Birch Cooper)

MSHR



MSHR is a collaborative project by Birch Cooper and Brenna Murphy based in Portland, Oregon. The duo produces installations, sculptures and ritualistic performances that place the human body into a dynamic relationship with sound and light, generating expanded sensory experiences. MSHR's live performances currently revolve around a unique system of light-audio feedback that employs hand made analog synthesizers and sculptural interfaces.
---
June 2014: Phillip Stearns – Interferences into Fluorescene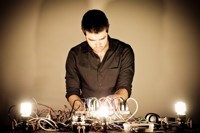 Phillip Stearns



A graded two-part set featuring two improvised works exploring the raw materials of electronic media: electricity, electronics, signal, light, and sound. Each work deals with the basic elements of rhythm, pitch, spatialization, and compositional form as derived from systems of feedback. The performance will contain stroboscopic visuals and may not be suitable for individuals with photosensitive epilepsy.
http://phillipstearns.com
---
May 2014: Levy Lorenzo

Levy Lorenzo

Electronics Engineer and Experimental Percussionist, Levy Lorenzo plays his own custom designed musical instruments and performs embodied electronic sound expressions through new sonic idioms.
http://www.levylorenzo.com
---
April 2014: Terry Dame's Science Music Road Show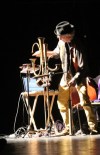 Terry Dame



Instrument inventor Terry Dame performs on original sensor driven controllers fabricated from recycled objects. In a interactive dance with her instruments Dame weaves musical soundscapes and takes you on a unique sonic odyssey. Haunting, humor tinged and beautiful.
http://www.terrydame.com
---
March 2014: Radio Wonderland

Radio Wonderland



RADIO WONDERLAND turns mass culture into recombinant funk, LIVE, with computer processing of live FM radio controlled by a real steering wheel, old shoes hit with sticks, knobs and gizmos. Hear award-winning composer Joshua Fried build his grooves, step by step, out of recognizable radio, and even UN-wind those grooves back to the original source.
http://radiowonderland.com