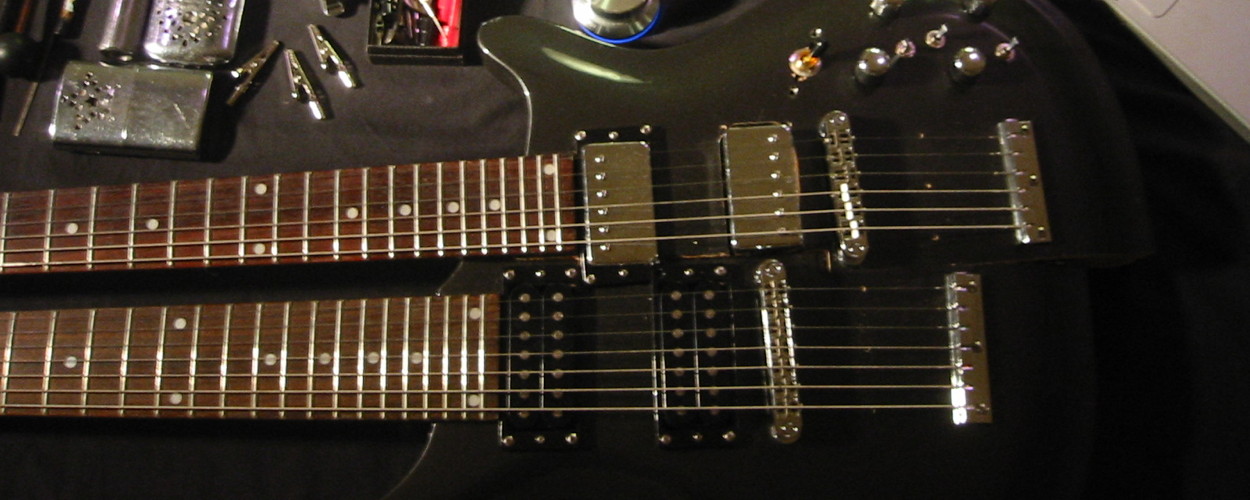 Double-neck guitar, with the center voice on one neck, the surrounding voice on the second neck.


ENDANGERED GUITAR WORKS
FOR MODIFIED SURROUND SOUND SYSTEMS

I am using multichannel sound systems on a regular basis since 2002, starting out with 5.1 surround sound systems in which I displaced the center speaker depending on the location. However, since I had the opportunity to completely rewrite my multichannel routines in my Endangered Guitar Processing software at
Lucas Artists Resiencies in Montalvo, Saratoga CA
, I have been exploring other avenues besides the "modified" systems approach. Originally working with traditional 5.1 systems that were widely available in the early 2000s, I determined that the speaker at the "center" location between left and right (in film mixing used for dialogue) did not add a specific quality to what I wanted to hear.
So I moved the speaker freely around when they let me do it (hence a "modified" system), and experimented with the location of this (former) center speaker, such as putting it in an adjacent room, hanging from the ceiling, etc. Then I created two independent voices drawn from the guitar and distributed (a) to the single speaker located somewhere else, and (b) to a micropolyphonic/polyrhythmic pattern on the speakers surrounding the audience. The following describes a few examples of these earlier performances.


Basic Configuration: Center Speaker In The Middle

Issue Project Room 2005: 16 Speakers On The Ceiling, 1 Speaker In Back

FAMU/Prague 2011: Mono Speaker High Up Behind The Audience

HfMT Hamburg 2012: Wavefield Synthesis System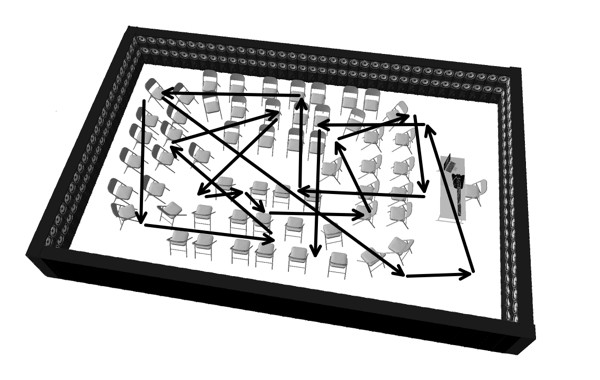 In regular multichannel systems sounds are still heard as coming from the direction of the speakers. Not so in Wavefield Synthesis Systems, here sounds are perceived as moving in space independently of the speakers, e.g. they can stop in front of your face, and travel slowly through your head. It is possible in Wavefield Synthesis Systems to move mutliple sources independently of each other in the space, however, to preserve the clarity of the spatialization I opted for just moving the mono voice around, while fixing the micropolyphonic/polyrhrythmic pattern on the four walls of the room.


Other Configurations


Any configuration that allows for special placement of a single speaker could work. A performance can take place in any space, but works better in spaces that are not necessarily set up as a traditional concert space (such as churches, cellars, circular spaces, caves, etc).


Support

Multichannel Endangered Guitar Works that follow this concept have been supported by American Music Center, Cultural Department of the American Embassy in Sofia, Bulgaria, Diapason Gallery, and Engine 27.


Hans Tammen & John Jannone (visuals) at Issue Project Room 2005

Live at 3DMIN / LEAP Berlin Nov 2014